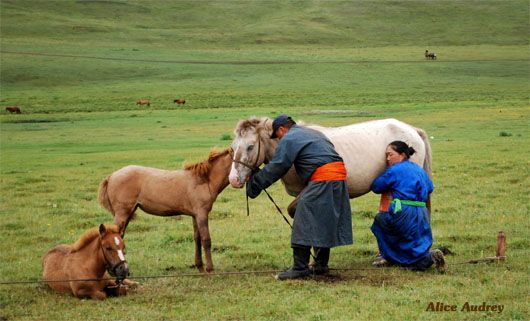 Oops. Jumped the gun. Let's start with the line.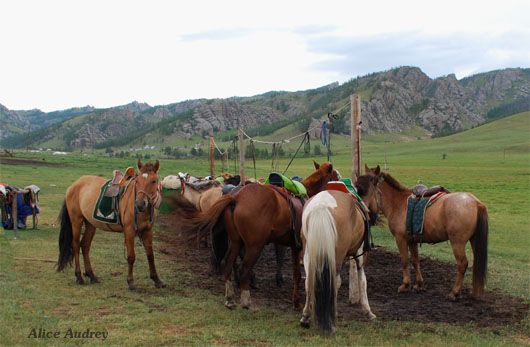 As you can see, the horse raising family rent out their horses to tourists to ride. We didn't ride these particular horses. Instead we watched them milk the horses and went into their ger to talk to them. However, it isn't the tourists that they raise the horses for. To them, horses are meat animals. Come Winter, a portion of the herd will be taken to the outskirts of Ulaanbaatar to be sold to whomever wishes to buy one for butchering purposes.
In the meanwhile, the family spends much of their time milking the horses to make a kind of vodka called airig. (Sounds like "addict"). The first step is to catch the colts and fillies, and tie them to a line. This is done after they are considered to be large enough to no longer need all the milk. As long as their young are on the line, the mares will come it for milking.
They don't use a rope to make a lasso the way we do. They have a rope attached to a long pole. Here you see him trying to chase down one of his race horses.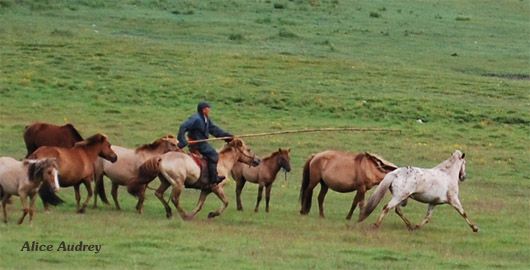 The horses are not bred the way we do it. They are not given names, or specifically mated, and certainly not listed in any registries. They typically run in races ranging from 12 to 34 kilometers, and are often ridden by children from the family.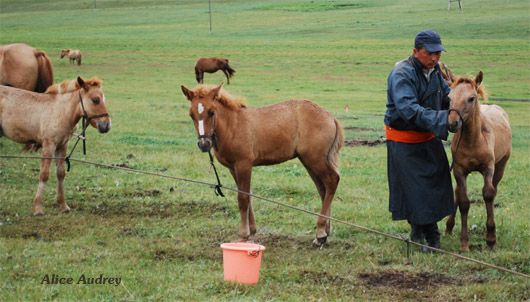 The horses tend to be built sturdy, though not real large. When I first saw them, I thought they were ponies. One of the little ones seemed to have a lot of trouble with the line. He kept stepping over it and getting caught up on the rope.
In order to milk the mare, the man will bring the baby close, then hold it toward the front while the woman has to reach around the hind leg. It takes about 8 mares to fill her bucket. The milk is then dumped into the bag made of rawhide, which already contains some fermented milk. This is stirred up and scooped out all day long. A man can end up drinking a lot of it in a day simply from snacking on it. It tastes sour, mildly alcoholic, and milky.