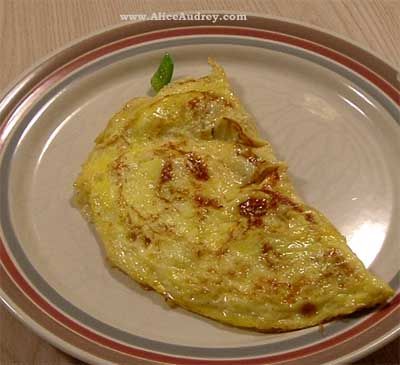 This is going to be as much a description as a recipe. It's just a basic method of making omelets.
butter or margarine
2 eggs
a splash of milk
some cheese
stuff

Stuff can be onions, bell pepper, tomato, ham, sausage, mushroom, or anything else you like. I highly recommend getting the stuff ready by chopping it into manageable pieces before you grab your frying pan.
crack the eggs into a bowl and mix with a fork. You need to at least break the yolk, but don't have to go overboard here. Add about a tablespoon of milk for each egg.
A non-stick pan with rounded edges is the easiest to work with, but I've made omelets on a cast iron griddle before without too much difficulty. Put your pan on the burner and drop in a dollop of butter. Warm until butter starts to sizzle.
Pour the eggs and milk mixture into the pan.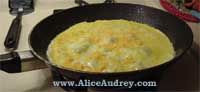 Followed very quickly by the cheese. Grated cheese is easiest to work with. You can easily adjust the amount to your diet, easily control how it spreads, and put it in quickly. However, if you want to use slices instead, that will also work. Thick slices tend to take too long to melt and leave gummy clumps. In order to do this quickly enough, it's best to have the cheese ready to go before putting the pan on the burner.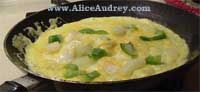 As soon as the cheese is in place, add the other stuff. By now the eggs should already be starting to firm around the edges. If you lift the edges with a spatula you're less likely to burn, but do it carefully because it rips easily. When the eggs are reasonably firm all over, fold the mixture over.
If you want it to brown a little more, or need more time for the stuff to cook, then you can carefully turn it from one side to the other with the spatula. When you're satisfied it's done – I like my stuff crispy so I call it done after a minute or two – slide it onto a plate.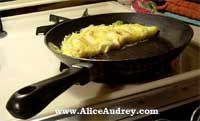 I keep prepped stuff in the freezer and put them straight into my omelets without a lot of problems, though moisture can sometimes be an issue. From the time I put the pan on the burner until I slide the omelet out generally takes me about ten minutes. I usually have enough ingredients to be able to make it, so will frequently do so when I am waiting for something to thaw, or caught without ingredients for other things.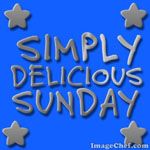 If you posted a recipe today, leave your link in the comments and I'll include you here.
Chicken Paprika plus dessert with Tamy
No-flour peanut butter cookies with Shannon
Omelet in a bag with Molly
Snickerdoodle tutorial with Kristen