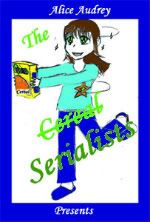 You may have noticed that I started a new thing in the sidebar of my blog. It's the Serialist corner. I want to raise awareness in readers that there is some great stuff out there available for reading, so I'm linking to people besides me who do serials.
Who do I pick?
1. Bloggers who post fiction set in a particular world. Calling it a serial is a little misleading, because I'm quite willing to include people like Susan Helene Gottfried who post fiction that jumps around or is episodic. I don't expect everyone to be posting straight up books, just that they use the same characters over and over.
2. Bloggers how have been at it a little while. I'm looking for a track record here – people who take their own serials seriously. Maybe not as serious as I have been about my own, but not someone who will post a dozen or so episodes, get us hooked, then just wander off leaving readers hanging.
3. Blogs that allow us to comment on the episode. I WILL leave comments, generally of the "this is good" variety. I feel a little cheated if I can't.
4. Bloggers who are willing to read what other people have posted. I can't tell you how many people I've met over the last four years who seem to think that my reading their work is supposed to be a privilege for me. Ok, sometimes it is. But still, I prefer those who are humble enough to check other people out and comment of their blogs too. In fact, I'm adamant enough about this that I won't include anyone on the list who has not commented at least three times on episodes posted by others on the list.
5. Bloggers that reply to comments get more respect from me than those who don't, though I'll still include those who never do. I'm talking about either answering question in their own comment stream, or replying to them on the blogs of those who originally left the comment.
6. The series itself doesn't have to be one I personally like, though all the ones there right now are. It does, however, have to be good enough that I know at least one of my readers will love it. I'm not going to link to anyone whose work screams "rank amateur."
7. The posts don't have to be long. In fact, I'd much rather link to a series that is broken into a large number of posts than to link to an entire book posted at once.
8. I like index pages. Scratch that, I LOVE index pages. If I can find an index for a series, that's what I'll go for. If I can't find one, then I'll try to come up with something as close to it as I can. This may mean that readers have to check the sidebars for something that looks like an index. It also means I'll be slower to link to some authors just because I haven't settled on anything I consider acceptable yet.
9. I'm quite willing to link to more than one series by a given author. This doesn't necessarily mean I'll link to ALL the series by an author, and I reserve the right to change the links around as I see fit. So you'll probably see some changing out of the Ann Pino links. The ones there right now are series I happen to be reading right now. Yep, they are there for my own convenience.
10. I'm quite open to experimental stuff. It doesn't have to be prose, but it does have to be fiction.
11. Blogs that plagiarize are out the instant I find out the material was swiped. Only original fiction cuts it.
12. Blogs that don't confuse me or make it hard for me to get at the series are more likely to catch my eye.
13. Bloggers who let me know they are doing a series are a lot more likely to get on the list – but there are no guarantees. This is a service for my readers.
That said, you can probably guess I'm planning on expanding that list in my sidebar. Do you know anyone who would be good?
For more lists of Thirteen, visit Thursday Thirteen