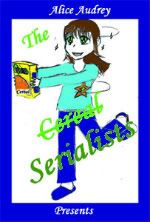 I'm featuring two people this week. First, I'm really glad to see that Carrie Ann Golden has settled in with regular posts on her serial. I feel confident enough that she and Alice Rozen will be continuing their serials that I added them to the permanent roll call. Second, I'd like to offer special kudos Old Egg for his diligence in commenting. We all love comments. Yours are much appreciated.
This is the hub for The Serialists, a meme for people who post original, serialized fiction on their blogs. If you have one or more posts you would like for us to read, please put a direct link to the post(s) in the linky.
If you are not an author and would only like to read, then please leave a comment. I may feature you next week.