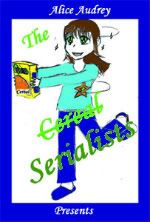 Today marks the last day of Scorpius.
I have been reading this story for years – long before I started The Serialist meme. I've greatly enjoyed reading it, and will miss it now that it is done. Thank you Julia, both for keeping me entertained, and for participating as one of the founding Serialsits. It's probably too much to ask, but I'm hoping you will start a new one.

This is the hub for The Serialists, a meme for people who post original, serialized fiction on their blogs. If you have one or more posts you would like for us to read, please put a direct link to the post(s) in the linky.
If you are not an author and would only like to read, then please leave a comment. I may feature you next week.