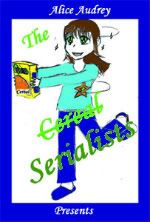 Ann Pino is one of my favorite serialists. I've been reading two of hers at the same time: Points of Departure and Diana's Diary. These are only two of the series she has made freely available to the public. Have you been by lately?
This is the hub for The Serialists, a meme for people who post original, serialized fiction on their blogs. If you have one or more posts you would like for us to read, please put a direct link to the post(s) in the linky.
If you are not an author and would only like to read, then please leave a comment. I may feature you next week.