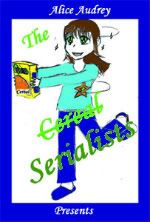 I'm baaaack! And I didn't miss anyone's episodes! This time I'm going to feature two authors to make up for my lack last week.
First, I'd like to welcome Nia, who has just started the serial called Blueprints of Winnie This is a great story about a young rocker making her way through the business end of the music industry.
Second, I'd like to cheer for the return of Carrie Ann Golden's apocalyptic story Underverse:Redemption. Welcome back!
This is the hub for The Serialists, a meme for people who post original, serialized fiction on their blogs. If you have one or more posts you would like for us to read, please put a direct link to the post(s) in the linky.
If you are not an author and would only like to read, then please leave a comment on this post as well as on the serials. I may feature you next week.