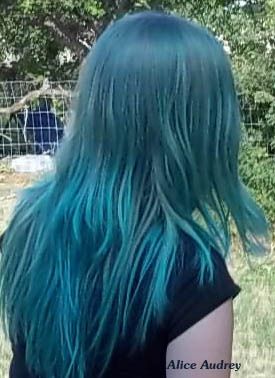 Now she's done it. The Girl turned her hair green. Green, I tell you! And not just a little. I know it looks blue in the picture, but that's because I took it before the last hair washing. It's supposed to be "semi-permanent" according to the bottle. We're guessing it'll look one kind of strange or another until school starts. And maybe beyond.
I like to think I'm the kind of mother who doesn't get stressed out over little things. But I also like to think I'm not too lenient. So what's the big deal about a little hair color?
It's created a morbid fascination for me. I find myself staring at her. I suspect the expression on my face might be horrified, as she keeps shrugging and saying "What?! What?!" I catch myself reaching out to touch it and muttering "seaweed" under my breath.
So far as she's concerned, the bad part is that she was shooting for sky blue.