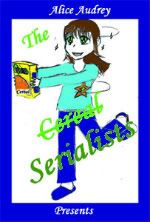 Featured Author: Susan Helene Gottfried with a Shape Shifter episode.
I told her she could link to the Roadie Poet post from right before, but I'm not about to complain about a new Kerri post. Thanks for taking time away from your editing work to treat us.
This is the hub for The Serialists, a meme for people who post original, serialized fiction on their blogs. If you have one or more posts you would like for us to read, please put the direct link(s) to the post(s) in the linky. Remember to visit one another and comment. We all want to hear from our readers.