I finally did one of those things I've been meaning to do for ages. I got an image I like and set it up as a gravatar.
What's a gravatar? It's a WordPress thing. You upload an image you like with them, then any time you comment on a blog that asks for your email address, gravatar will send this image to the blog. If the blog is like mine, the image will post somewhere near you comment.
You've probably seen other people's gravatars on my site already, since I enabled that function as soon as I could find it. I like the images people provide because I think it dresses up the comments a little, and I know commenters who have gravatars are most likely looking for the same kind of recognition I am in getting one set up.
If you're a Blogger.com blogger, you have a similar feature in your profile. You can upload an image that will be carried from one blog to another much like a gravatar. You'll noticed I uploaded this same image there. If you're seeing something else (like a blond girl in glasses and a pink top) let me know so I can take it down and put this in it's place.
Where did my image come from? The Girl made it for me. She's still working hard to hone her craft as a mangaka. (A mangaka is a person who draws those Japanese style graphic novels my whole family loves). You'll be seeing a lot more of her artwork as time goes by.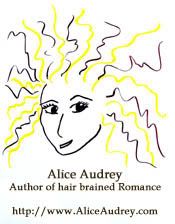 In fact, I have every intention of making this my grab it button. I haven't really decided yet if I want "Author of hairbrained Romances" as my byline yet. (I'm such a sucker for bad puns.) If I can think of a better line, I'll use it.
What do you think? Is it a good one? Should I use it? Got a better one?