"The first diving helmets were invented in the '20's by Charles and John Deane. They looked a lot like this one, but this is just a reproduction. Look, you can even open and close the faceplate." Big brother tried to show his little brother and sister how to work the faceplate.
"Quick! Hide here!" Little brother dived into the cushions, taking little sister with him.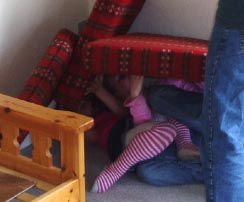 "Squeeeeeee! Giggle, giggle." Little sister kicked a cushion.
"Hold still! He'll find us."
"What can he do?"
"Don't you know? He'll lecture us to death!"
.
.
.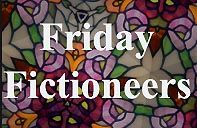 Original photo from the Friday Fictioneers hub. Had been cut in two. Copyright – Douglas M. MacIlroy