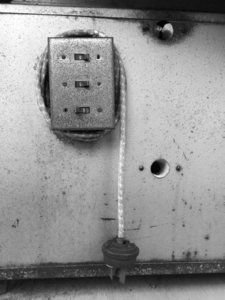 Liam, Alicia, and Sally sat around in Alicia's half-finished basement.
"Not much to look at, is it," Sally said. "How many more years until your father turns this into a den?"
"Who knows." Alicia shrugged.
"Well, I think it's fine the way it is. No one but us wants to come here even though there's a mini fridge and a couch and even a TV. Think about it." He jumped onto the arm of the broken down sofa and struck a pose, invisible microphone in hand. "It's our own little clap trap turn around karaoke burn down…"
"Someone must have flipped his switch," Alicia groaned.
"He won't last long," Sally drawled. "The switch might be flipped, but there's no where to plug in."
The Hub: Rochelle Wisoff-Fields
Photo credit: Ted Strutz