For the last six months my blog was completely taken over by my two week vacation in Mongolia. Now it's time to get back to my regularly scheduled front page.

About That Post: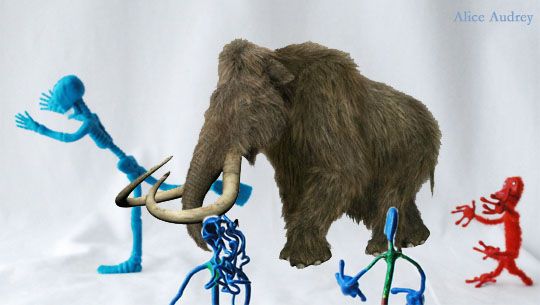 We're Home. If you haven't been following Jack and Jill, which posts every Saturday afternoon, then you will only get half the joke. Clearly Tina (Mom) and Theodor have been up to a lot, but Jack and Jill can only guess at the violent cat and mouse game the two have been engaged in for weeks. Meanwhile, Jack landed a commercial airline's plane in the middle of the jungle just a couple of weeks ago. A wooly mammoth in the living room? Well, considering that Theodor is a geneticist, that's nothing.
I generally try to avoid using suggestions from the same person two weeks in a row, but these worked so well, almost as if I'd planned it. Gotta love what my mental basement hands me. Anyway, the Jack and Jill suggestion box is still very much open. If you are in the mood, drop me a few words.
How's the Writing Going?
It's been dribs and drabs ever since National Novel Writing Month. There have been a couple of months in which the only thing I've written at all is Suzie's House, and the rest of the time has been raw revision.
I'm working on two books at once right now. The first is a Science Fiction I wrote for Camp NaNo a couple of years ago. The other is Beautiful Spanish Hussy. You'll be hearing a lot more about that as we go.
Etsy Gallery
I've thrown in the towel on my Etsy store. In the two years I've been feeding it, I've only made one direct sale. That was to a friend. Because they list the number of sales and the start date, I have no hopes of making anything of it. I'll still have a few photo downloads available there. So if you see something on my blog you think would make a good screen saver, check there. I'll have a larger, cleaned up version available. Otherwise, I'm letting it run itself.
Instead, I've joined with some local people to form a new etsy store called Faire Miscellany. The same origami earrings and hemp necklaces I was trying to sell at Alice's Etsy Store will be showing up there, along with some of my embroidery and some sewing projects. I have much higher hopes for this one. Here are some of the things being offered:
Click on any picture to go to the listing