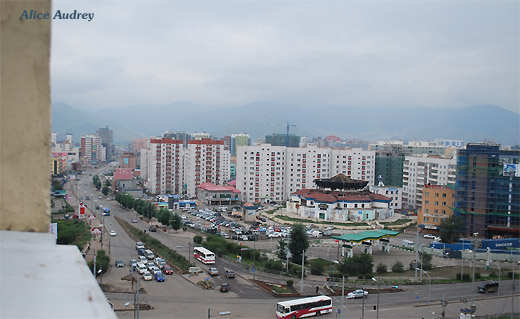 I went to Mongolia this summer. It was quite the trip.
We flew into Ulaanbaatar first, and made it our central hub. International flights limited us to a total of 44 lb. of luggage. Within Mongolia that limit drops down to 33 lb. So each time we left Ulaanbaatar we would leave one suitcase with part of our stuff and take another. Between each segment of the trip we spent a night at the same hotel. That's where my only hotspot for the trip could be found.
There is plenty to see in Ulaanbaatar. Each time we came back to town we visited one site or another. That's not counting the good restaurants. We went to a couple of museums, saw an assembled dinosaur skeleton, and visited Gandan Monastery the first full day. Other stops included a shaman, a music factory, and the "Black Market".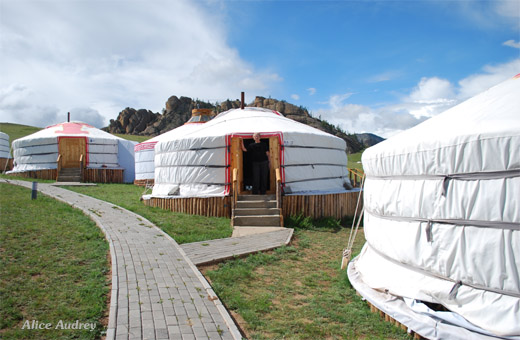 From there we drove out to a ger camp to the northeast. This was a bucolic area with a park reserved for the use of nomads and ger camps. Many kids spend their summers here. We visited a Kazakh family, visited a town built around illegal mining, climbed up to a Buddhist monastery in the hills, visited a horse breeding family, and looked at an enormous statue of Chengis Kahn. At the ger camp itself we learned to put a ger together, did a little archery, and ate some great food.
On the way back to the hotel in Ulaanbaatar we stopped off at another Buddhist monastery. This is also when we went to the "black market", and a music factory.
Our flight out of Ulaanbaatar to Moron (MOOroon) left at a reasonable hour and ran right on time. From there we drove out in range rovers to a ger camp on Khovsgol Lake.
From our lakeside camp we had a number of excursions. We took covered boats across the lake to see the Reindeer People, took a horseback ride along the lake, hiked up to a local promontory, and drove out to visit a yack breading family. Then back to Ulaanbaatar and a skimpy night's sleep before flying out to Dalanzadgad in the Gobi Desert.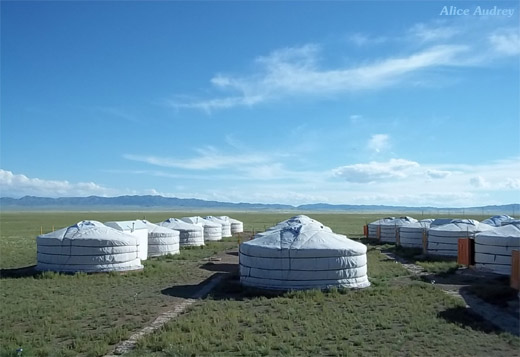 The distances in the Gobi were much greater, so we spent more time driving over dirt road and looking at vastness. We went to a park where we hiked in to slot canyons and witnessed a truly impressive tire change, rode camels with the camel raising family, hiked through an area where dinosaur fossils have been found, and stopped off at an oasis.
The tour group features visits with local people. We went into the homes of a number of different families and talked about their lifestyle. Some of them did special activities with us – such as the family who raises camels who took us for a ride into the sand dunes in the Gobi Desert, and the Kazakh family with whom we made soup.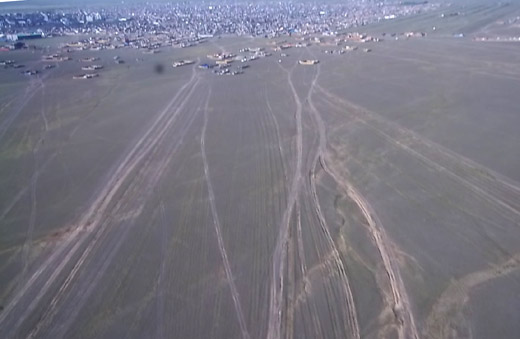 I learned a lot abut how Mongolians live. Until I went there, I had no idea cell phone coverage would be so extensive, or that highways might consist of four or more lanes of dirt road. This picture was taken from the air over Moron, which is one of the major cities of the country. This kind of road was common. At one point I glance at the speedometer to see we were doing 80 kilometers per hour. No wonder the dips had us bumping our heads. A major, paved highway is planned to run from the East end of Mongolia to the West, but so far it only has a few hundred miles and political corruption has been slowing it down.
I've blathered on about how some Mongolians use eagles as hunting birds, did a quick pictorial overview, talked about some enormous Buddha feet, and described the Gandan Monastery. And that's just in the last week or so. Wait until I've waded through the 6.376 pictures in total that I took while on this trip.
Check out these related posts:
Mongolia
Dinner Music
Mongolia and Eagles
Almost Home
Unpacking
13 Pictures of Mongolia
13 Things I Ate in Mongolia
Scarves and Prayers
13 Pictures of Goats in Mongolia
Fences in Mongolia
It was quite the experience. For instance, my first night there I got to see these guys.
Wish I'd bought the CD. I don't remember the band name or anything, and I really enjoyed it. I'm sure the CD would be much, much better than my work as a cameraman with just a little digital camera and no sleep for nearly 40 hours straight.
Is there anything in particular you'd like to hear about?