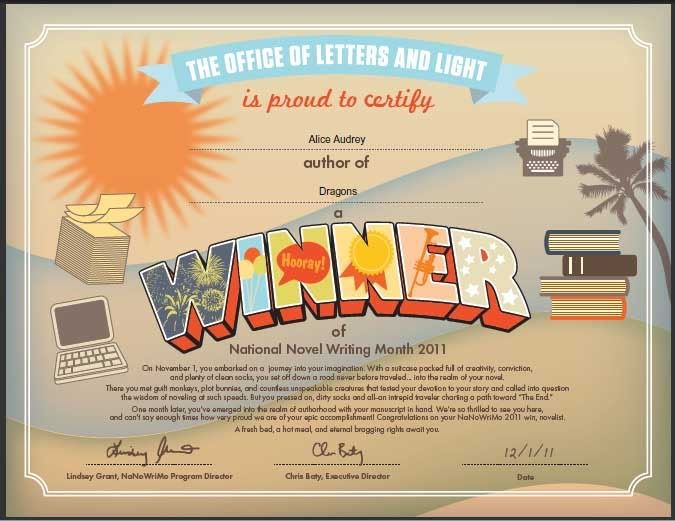 1. Today (Wednesday, actually, as I type this) is the last day of NaNo. Yay!
2. At a little over 60,000 words, I won. See my certificate at the top?
3. I better rushed over there and plug the WIP in so I could get my fancy schmancy certificate.
4. I wrote my WIP in Word all in one file, to getting it verified was easy. Just Select All, Copy, and Paste in their form.
5. Mr. Al was a lot harder. He had four different files with material in them, and had done it in Open Office. The web site for NaNo balked.
6. Can you believe they actually expected Open Office users to finish early so they can get the technical interface stuff cleared up? So unfair.
7. If you convert the file to .RTF and save before copying and pasting it'll work anyway.
8. Last year after I verified my win, I couldn't add new words to my graph so this year I waited until the last minute. Then I added some, and it took it just fine.
9. I'm not sure how I got the Montana word count total on my stats page, but I did. See?
10. I notice that it has a nice smooth curve to it. I'm guessing it arched down as people dropped out, then came back up as people pushed to get done in time.
11. Mine didn't quite match.
12. I pushed at the end when I already had 50,000 words because I wanted to see what the graph would do when I went over the 60,000 top bar.
13. The book is actually only about two thirds done, based on what's plotted out. Now I have a new goal – done by Christmas. Gotta get back to editing the Suzie's House books.